Sometimes it's hard to be objective and unbiased when writing about a festival that is such a big part of your life. Except for two (very) unremarkable lineups that made me stay home, since I was old enough to go to college all my summers involved a trip to Paredes de Coura (and a painful trip back, too). When you're a kid, they say you'll eventually get older and boring, in a process they call "becoming an adult". This usually comes with amazing perks such as ceasing to listen to any new music whatsoever, stopping seeing your (also ageing) friends, having great conversations about changing diapers with your remaining friends (yes, the other couple with kids you always go vacationing with to some shitty beach full of other couples with kids and the odd mother-in-law). Obviously, a multi-day, non-kid friendly, rural music festival such as Festival Paredes de Coura seems like one of those things that are amongst the first to drop from your newfound "adult life". Except you don't have to be that person; and is there anything better to remind you of that than going there and finding all your friends in the same place, same month, year after year, all over again? (Well, other than imagining the smell of those diapers.)
That does not mean the festival itself is perfect. The lineup itself is arguably the best amongst Portuguese generalist indie festivals, with a carefully picked mix of artists that appeal to a young, college-aged crowd that is the heart and soul of the festival – although we have missed some of those fast, hard pounding guitars that were always amongst the top moments of the festival – and more contemplative, "adult" artists that appeal to an ageing demographic who has chosen Paredes de Coura to be the soundtrack to their summers for the past ten to fifteen years. And this seems to be the main issue for the organization to tackle in the years to come: How can they better accommodate a fanbase that is growing older and craves a level of comfort that is a few degrees above the needs of a camping 18 years old kid?
For starters, the beautiful green amphitheatre we can find on Wednesday – the real headliner of the festival, every year – is rapidly gone as soon as you get used to it, at least in some areas of the festival grounds where there is more movement, and especially after two sold out days. A less than ideal scenario, unless you love the feeling of having your nostrils taken over by dust. More frequent extreme weather conditions in the future will likely worsen this problem. As elitist as this sounds, and although this has not been a source of extreme queues for food and drinks, a cap on the number of tickets sold per day would be appreciated by most, even if a ticket price hike is needed as a trade off. The lack of sufficient, suitable accommodation in town (and nearby villages) may also become a problem in a scenario where more and more 30- and 40-somethings refuse to trade the highlight of their summers for a painfully boring conventional lifestyle. On the bright side, it is refreshing to see that the food options in the festival keep improving, with the traditional junk food slowly being replaced by tastier and/or healthier alternatives, in line with the excellent food lineup NOS Primavera Sound boasts every June; the press area has a great ambience and provides an excellent view over the stage, with an added sidescreen; the staff, and especially the security team, is miles ahead of any other festival we usually attend in the country.
KOKOKO!. Photo: Hugo Lima
As for the music, the first night was saved by the superb polyrhythmics of the Congolese ensemble KOKOKO!, who certainly deserved better than a 2am slot in an after-hours stage that, unfortunately, cannot comfortably hold enough people that can properly listen to and enjoy a show like this. Julia Jacklin's songs are perfect in any situation, but they felt slower than usual and I wouldn't hold it against people that thought it wasn't the most attention-grabbing set of all times. For a festival set, we could have used a bit less slows and a bit more energy. Boogarins sounded unlike everything we think a tropicalism-inspired Brazilian indie rock band should sound like and their set was a major letdown; local rockers Bed Legs are not the most interesting band in the world, but at least they sound like they give a shit (in fact, they played their hearts out, and fair play to them). In a prime time slot, Parcels seemed to entertain those who could see past the idea that they are were brought up in a lab, tailor made for indie music festivals and commercials. The National were up next.
The National. Photo: Hugo Lima
We do not want to sound like people who advocate alcoholism, but it was a bad omen to see Matt Berninger entering the stage with some Coca Cola instead of the wine bottles we were used to in the golden days around the release of Boxer and their shows in the Sudoeste and Alive festivals and their shows in Lisbon and Guimarães. Berninger might look healthier than his younger self, but the 2019 version of the National is tamer, more predictable (how many new songs with the same drum beat can they possibly write?), less interesting, and equally anthemic, but in a worse way. It's not during "Mr. November", the only song rescued from Alligator that night, that Berninger does his typical first row freak out; that song sounds quite graceless now. (Yes, this isn't a good pun at all, he did that trick during "Graceless"). "About Today", one of the greatest songs the National have ever written, also sounded a bit dull. Or was it because we knew that the cheesiest moment of the night, that a capella "Vanderlyle Crybaby Geeks" chorus was about to come next, and we were already dreading it?
It wasn't all bad, though. Despite the shameful absence of two handful of great songs off their pre-2011 life, their top songs released in this decade are amongst the best they've ever recorded. "Bloodbuzz Ohio", "Day I Die", new tracks "Rylan" and "Light Years", and especially "Pink Rabbits" were the highlights of the show. The other songs off the new album are competent at best, and the musicianship is certainly there. Deep down, we know we might still see some spark in this band in the future, but not now. Berninger might have seen Nick Cave (who told him to fuck off) in this very stage fourteen years ago, but apparently he learned nothing from him. The National is a pretty decent band in a desperate need of a long break.
Stella Donnelly. Photo: Hugo Lima
Shamefully, we were working during one of our most anticipated sets of this year's edition of the festival, but we heard only good things about Khruangbin's show on Thursday. Of course they had to steal everyone's hearts. How could they not? Same as last minute replacement Stella Donnelly, who ended up being one of the major highlights of the whole weekend. Donnelly and her five piece band had the best energy, played some of the songs with the quirkiest and poignant lyrics, did the best synchronized dances, and she deserves to be crowned the undisputed queen of Vodafone Paredes de Coura 2019. At least for the diminutive crowd that was there at 7pm – was everyone else working, too? Only time will tell if this is the next case of a singer-songwriter who will start playing two shows in Portugal per year until everyone's tired of her but we sincerely hope the first part of the sentence is true. Later on, Car Seat Headrest made up for their lukewarm show two years ago and provoked the strongest bursts of energy in a crowd that seemed thirsty for some guitars, singing along to every single song, from the new "Can't Cool Me Down" to the absolute anthems "Drunk Drivers/Killer Whales" – one of the greatest songs added to the indie rock canon in the past few years – and "Destroyed By Hippie Powers", off Teens of Denial.
Car Seat Headrest. Photo: Hugo Lima
But the night belonged to a New Order rare apparition in Portuguese stages. You just have to check a couple of 80s and 90s New Order live shows on YouTube and do the same for contemporary gigs to know they're a totally different beast, and in a good way. They may still not be the best live band ever, and Sumner's vocals sound quite hilarious at times. But, at this point, they're a very oiled machine – and some of the best sounding songs were the ones off their most recent LP, such as "Tutti Frutti", "Plastic", or opener "Singularity". We would prefer, though, a few forgotten New Order classics ("Ceremony", "The Perfect Kiss", "Age of Consent"…) instead of that four song long tribute to Joy Division ("She's Lost Control" and "Transmission" in the beginning, and "Atmosphere" and "Love Will Tear Us Apart" in the encore) that made them look as a band that would prefer to have never existed. The crowd didn't give a flying fuck about my eye-rolling reaction to that encore, as it provided the biggest sing along moment of the festival.
New Order. Photo: Hugo Lima
Our Friday opened with a laidback, seemingly endless (in a good way, they should have gotten a 2 hour long slot anyway) Jonathan Wilson show. Featuring ex-The Mars Volta drummer Deantoni Parks on drums (what an amazing extended solo at the end of "Dear Friend") and Jeffertitti Moon on bass guitar, Wilson's band smooth sailed through the early afternoon. Playing mostly Rare Birds material, taking us straight to LA along with album art-inspired visuals in the background, there was still time for a single foray into Fanfare (the abovementioned "Dear Friend") and two picks off his "official" Dead Oceans debut, Gentle Spirit: the classic "Desert Raven" and traditionally set closer "Valley of the Silver Moon". Jonathan Wilson will be back in Braga for a solo show next November but he's apparently only going to play Frankie Ray tunes in my dreams.
Jonathan Wilson. Photo: Hugo Lima
One of the most expected shows of the festival was Black Midi, the most likely band in the lineup to make the kids go wild. And they did. The London boys might be young and a bit inexperienced, but they're already masters of the whole tension and release thing, to the point that they're comfortable with not releasing at all at the most obvious moments for that grandiose firework effect. Doesn't matter: the kids still won't be quiet, the kids are hungry for movement, the kids are loving it. This band is a blessing, and we hope they stay with us for years to come.
Black Midi. Photo: Hugo Lima
Deerhunter played possibly their most interesting set of their long history of boring me around 9pm in every single festival I go to, but the moment we were waiting for (and we waited for some 15min longer than supposed – thank you Jonathan and your extra long set, we love you) was for Spiritualized to take the stage. In a format of a six piece band complete with a three voice choir, Jason Pierce refuses to take center stage – as always – and sits on his chair by the far left of the stage as the band bursts into "Come Together" and proceeds into a more gospel-y phase with Lazer Guided Melodies' "Shine a Light" and the miraculous, anthemic "Soul on Fire". The straightforward rock and roll Amazing Grace cut "She Kissed Me (It Felt Like a Hit)" gave way to an almost complete performance of their latest record "And Nothing Hurt", with the song titles written in the big screen on morse code to keep with the album artwork. The combo "On the Sunshine" (complete with a long outro filled with strobe lights) and the post-rock-like crescendo of "Damaged" were amongst the highest points of one of the best shows Spiritualized have performed in the country in recent times, before closing off with an ecstatic "Oh! Happy Day" version where the choir shone even brighter than those strobes.
Spiritualized. Photo: Hugo Lima
It's a very tough job to follow up a Spiritualized gig, but it's simply impossible for Father John Misty and his band to play a bad show. With a heavy focus on latest record God's Favorite Customer but especially 2015′s I Love You, Honeybear (the same record that fueled that marvelous show in this very stage four years ago), at this point, about five out of every five songs he plays live are above average, to the point that there's really not much to say about it. I would like to use this opportunity to tell the kid that was singing all the words behind me during the whole set to frantically listen to Fear Fun, since those were the only moments ("Hollywood Forever Cemetery Sings", "This Is Sally Hatchet", "Nancy From Now On") I could hear Tillman's voice – the kid didn't know the lyrics. Thanks man, you can learn them now. Unfortunately for Peaking Lights, there's really nothing we could do to pay attention after Spiritualized and FJM, but a few of us really tried to fit Macarena's lyrics into your beats.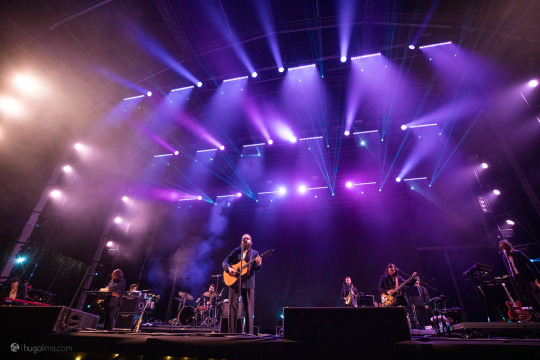 Father John Misty. Photo: Hugo Lima
There's always a dark cloud looming above us in the last day of the festival, and this time it was threefold: a certain sadness because we knew it was time to go, a cloud of dust in certain parts of the festival grounds due to too many people walking above holy ground, and a proper giant cloud threatening us with that classic Paredes de Coura rain we all know and hate. The Lisbon six-piece Ganso opened the main stage with their slow, pastoral brand of indie rock reminiscent of Capitão Fausto, who closed the main stage after the New Order show two nights before. Elsewhere, Alice Phoebe Lou was experiencing problems with her mic (and her sore throat), and the audience celebrated like a goal the moment her voice finally echoed through the Vodafone FM stage. A crystal clear voice that we cannot help but think it was cloned off Angel Olsen's vocal chords. The up and coming singer-songwriter was presenting her new album, Paper Castles, from which she drew two of the highlights of her set: the marvelous ballad "Nostalgia", "Galaxies", and "Fynbos", a song evocative of her homeland of South Africa. Looking forward to explore a record that, somehow, fell through the cracks and did not cross our radar in the first half of 2019.
Mitski. Photo: Hugo Lima
"I played three songs". Those sharply pronounced four words, said while laying on top of a table, were the only words uttered by Mitski Miyawaki in between songs, sending away the photographers from the pit. On one of her last shows before an already announced hiatus, the Japanese-American songwriter brought us the unusual stage antics we were still looking for in the shape of unsettling dance moves that might have come straight from a 90s instructional fitness VHS. And tons of great songs covering all her albums, with a focus on latest Be the Cowboy and the brightest jewel in her discography, Bury Me at Makeout Creek.
Sensible Soccers. Photo: Hugo Lima
But the biggest moment of the night, and probably the festival, started taking place before Mitski even left the stage. We had already pointed out that Sensible Soccers was our top pick for the day and our favorite Portuguese act in the lineup, and they did not disappoint. On stage, the trio turned into a five piece that sounded tighter than most bands with extensive continental and overseas touring, despite their touring consisting of shows far and between, and almost always in their home turf. We like to believe the only reason for them not to be consistently touring and playing sold out shows all across Europe is simply because they have their own jobs and don't want to. Aurora is an absolute beauty of a record that needs to be listened to right now (we told you that a few months ago), and too bad you cannot find them on a stage near you. Oftentimes contemplative, ecstatic when we needed it to be, this show was one for the ages – and we didn't even need the bonus that is them closing the concert with the fantastic "Sofrendo por Você" – complete with their mythical dancer on stage as it should be. Later on, Freddie Gibbs and Madlib would prove hip hop is in Paredes de Coura to stay (although the fifteenth "fuck police" chant was starting to bore us) and Jayda G's set was on point until 5 am, but our festival was largely complete. See you next year.