Now it's time to anticipate our second day of Milhões de Festa but the first at full speed, with concerts happening at the pool and at the main site of the festival, by Milhões Stage and VICE Stage. For those who never attended Milhões, the concerts of the latters always occur separately and continuously, giving us no slot time without music. Therefore, don't mind if I don't distinguish a concert from which stage, they're a few meters from one another. And you can always check our schedule for the entire festival to be sure what stage the band is performing, collaboration of ours with P3. Thus, I'll divide the shows in three segments: the Taina Stage concerts, the Pool Stage ones and those of the main stages. Here's what to see at (still by our definition) day 1 of Milhões de Festa!
Pool Stage
There are some interesting things to check here, no doubt, and even if not of your interest, the soundtrack is right for the swimming-pool. And Juba seems to please both worlds, with a sort of a moderate dysphonic rock who enters in secure territory. If you're not to pay much attention they won't bother you, but still, it's a good start. The next name is by far more intriguing, as it's another combo that only MdF provides: Yonatan + Igor. The guitarist of the not that long missed Monotonix teams up with the drummer of Throes – and Throes + The Shine, another combo band to turned to be a serious and successful project – to simply do music and fish something out of there. Given the historic of both, maybe another project worth the effort is germinating. The combos shan't stop; it's time for Adorno/Papaya! And although little I know of them, they seem like two bands with a lot of members in common, who just gave up and decided to join all together. Fits right with the music: happy punky rock with little worries. Cool, cool, cool. And to finish, a DJ set of course. No day of the Pool Stage is complete without a DJ set, and the honors are to Dam Mantle. But don't underestimate this one, this guy is intrinsically classy. Even though he'll come later with a more complete show, this DJ set shouldn't be ignored with a swimming-pool nearby to chill out and incorporate those edgy beats and painkiller mixing. And here's how an afternoon is done.
Taina Stage
But hey, screw your swimming-pool, Taina Stage has the better line-up (sorry, no hurt feelings guys I just reviewed). But seriously, consider visiting at least a band out of four. And this band could really be Quelle Dead Gazelle. An instrumental duo with the strength of three or four more, it's a band who knows how to avoid "that" sameness of a guitar and drums duo. The guitar effects are a constant, and the drums dictates more than the pace, indeed conducts the feel and route of the song. It's a quality gig, people. The following name is Vai-te Foder. This means "fuck you" in Portuguese. Next band. Ok, ok, sorry. Literally it means "go fuck yourself", but "fuck you" is shorter and right to the point, much like the band (shocker!). It's crust-grindcore, what else do you fucking need? But if straight noise isn't what you're looking for, there's dUASsEMIcOLCHEIASiNVERTIDAS. This means tWOsIXTHEENTHSrEVERSED (stylization maintained) in Portuguese, and it literally means nothing more than a reference to the sometimes rapid movements of the band. Because there's more to it, like beat deconstruction, loudness and softness and weird objects trying to vibrate into music (I'm not saying there's a vibrator onstage, but there's a vibrator onstage). You know, fun! And for ending the fun after giving some of theirs, Mr. Miyagi. Couple years ago they managed to turn a full swimming-pool in a synchronized swimming lesson, puts you imagining what it'll be next for a stage pretty much plain, only with a stone wall next to it. Oh god, please be safe. Well, crazy rock concert safe at least. There's more of the festival to enjoy.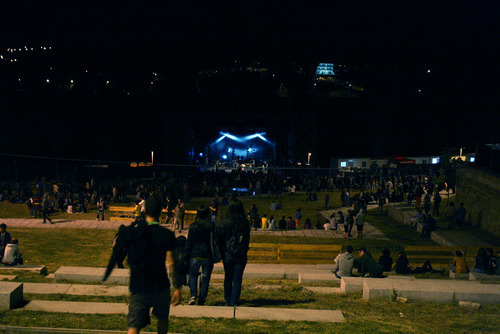 Main Stages
Wow, this year they really stood up for the first day. I mean, the most anticipated names of the fest will act this night. However, by no means "anticipated" means the best, just that these were the most recognizable for the attenders, and for many this year's music appeal. Because let's face it, there's always a surprisingly surprise new favorite act of the year for each and every one of you. Maybe Papir? Maybe. They have a lot of elements who do well by the sunset, prepare yourself for long time songs who eventually explode in some uplifting krautrock, helping the ambient around it with some delays and chorus. Synths may appear suddenly also. It's a great opener for the night, I think later on we wouldn't be so much into this type of music. But for many it's just the first part of one of the many must-see concerts (if not the main one), it being Mikal Cronin. And I go along with it. Mikal easily stands out of the rest of the festival, not only because it's getting a well-deserved hype, but also of the music, which is pretty joyful, but much loyal and solid to his roots (San Francisco, beach rock and stuff). What more can I say, I advise you seriously to go listen to both his records, they're great. Great as the expecting quality of a guy whose past was being a bassist for other guys like Ty Segall. Got your attention now? Good. Do it.
Since we're talking about some influences, the next artist shares indubitably some with Syd Barrett. Ok, NOT that kind of influences (but also), musical influences. Ladies and gentlemen, Jacco Gardner. But nevermind the copy paste, Jacco knows a lot of the stuff. It's psychedelic rock how psychedelic rock should be: harmonically complete and timbre rich. If you took drugs for Milhões, this is the time to use them. A concert who I'm guessing will receive a lot of praise.
Disclaimer's note if I happen to like the following concert (highly probable): treat him as a stand-alone experience, and not as a concert of any of the bands. Because this totally happen last year. Yes, Black Bombaim is back and this time the fusion is Black Bombaim + La La Ressonance, one of the most succeeded Portuguese rock bands along with the already classic act of La La Ressonance. And if you do remember, Black Bombaim + GNOD was something of a full concert length experience, where loudness became the common factor. This time's common factor? Good question. Maybe BB will bring the whole noise and La La the unfitting gaps. Whatever the result may be, I'm looking forward for the misconception.
So, what's next? Austra. The indie crowd is looking forward a lot for this one, and maybe that's why this day is so strong in many levels, each urban crew gets a tremendous concert to watch. Prepare yourself for moving along with those pretty girls singing in between riffing synths and a striking bass. Either way, if this isn't your cup of tea, you can always relax, they're harmless.
…While Camera waits to bring another kind of relaxation, the one where usually your mind just goes away. I have to bring some facts about this recent band but not so recent act: these guys used to play very spontaneous shows in also very spontaneous locations, totally improvising the whole music. Don't be surprised if this is gig turns out to be performed in the middle of the crowd, an already classic move of Milhões de Festa. Given the videos of those early performances, I sure hope so.
Speaking of Milhões' traditions, looks like the first big day of the festival is becoming the chosen one to play the concordantly biggest metal band of the line-up. This year's? Ufomammut. This Italian trio is way powerful, and probably the headbanging will turn out to be not avoidable. Don't expect much insanely speed on the riffing, they're not that type, just the sufficient and right. Also, no need for a singer. This experience is based in heavy sound, and I assure you, it's heavy. Another expecting great concert of the night.
Although I'm awaiting it to be awesome,the feeling I'm getting is it'll interrupt the partying a little, and Otto Von Schirach is guilty. An americano-cubano-germanico MC, who clearly revises the definition of swag, adds a little breakcore to the heavy partying, while using some doubtful dressing. If you're indeed going to use drugs back then at Jacco Gardner, this pretty much is the bad trip. Otherwise, lots and lots of fun.
And to close, White Haus turntabling us a DJ set. In other words, X-Wife's frontman João Vieira choosing us some songs to hear. And this is how you close the first day of Milhões de Festa. Stay tuned for the rest.
And please do come back, crowdsurfing Spiderman.
Photos by SMF
BSC
bernardo@bolachas.org