Second Act (a.k.a. the first big day of the festival)
Yeah, so after another night of hard partying (rumors of an ambulance to the rescue still to be confirmed), we got to wake up a little late but not that late for the first concerts of the day, again at Taina and the much regarded swimming-pool. However, and I hadn't the chance to say this yet – because frankly, who cares about the weather? – it wasn't much pleasant this weekend in Barcelos. It missed that overwhelming heat and clear blue sky, even raining a tiny bit at some point. Still, and speaking for me, the afternoons were bearable for a swim. Also, given the expectations of a much rainy Sunday and a bit raining on Thursday, which it missed to, it exceeded the expectations. Enough weather talk, the concerts!
The premier of the day got to be Quelle Dead Gazelle, take that swimming-pool. Arriving a quarter hour earlier and seeing few people by the surroundings (pretty much the opposite not even ten hours before), I assumed wrongly that it would be a soften one. As it turned out the Milhões public is "brittainly" punctual, and even for those who're not so rigid of their time, QDG delayed a few minutes. So what to say about this one, it started in a rage, raw and to the point with the self-titled EP opener "Lion Meets Gazelle". And for those who were also meeting Gazelle for the first time, the rest went along much faithful to their record. It felt to me that the concert lost some of its initial strength, no matter that the guitar and drums duo ended the show in a high note. Well done, boys.
Didn't have a chance to check them, so to compensate here's a photo of Juba!
Not that well done turned out to be Yonatan + Igor. For their defense, I arrived late to the swimming-pool and to the last minutes of their performance, but still wasn't much surprised. Aw whatever. We all got a bonus concert for the afternoon. Yes, it turns out that the combo Adorno and Papaya played separately! Five concerts at the Pool Stage in an afternoon, I'll be damned. Luckily, Adorno was being much fun moments before noticing it was in fact Adorno solo. So, extra points for the larger party rock responsibility? You bet. Papaya was kinda fun as well, but much more of a screamer and noisy, thank those fully charged FXed micros. Nevertheless, impressive loudness for a trio.
The last name of the afternoon functioned as the warm-up for the next day's more tiring performance (sneak peek) of Dan Mantle. And fortunately, the whole set was a bit chill-out clichéd. Not that there's anything wrong with it, especially by the pool, I was just expecting to be more into it.
Don't ask me how, but I achieved making in time for Papir! Great. This Danish jam rock band, despite being a jam band, surpassed my guitar soloing expectations. I'm not complaining, it was enjoying enhancing your ears to those guitar notes, just saying it was a bit unforeseen. Maybe I should've know better the band, maybe a live performance characteristic. Awakening start for the concert marathon.
Mikal Cronin.
Sometimes I ask myself if I shouldn't be so praising during my concerts reviews (because it's so much fun to cuss a few annoying acts!). But then, guys like Mikal Cronin really difficult this task. It's surf rock, only how surf rock should (must?) be done: sentimental, uproarious in the right moments – those nagging silences before again breaking out – and, essentially, giving us a fresh approach to punk rock that still feels punk rock. For sure, Mikal is becoming more melancholic and emotional, but even so the rebel attitude, the smashing sonority, the punk, these are still there. Enough acclaim? A bit more if you allow me. Is it my impression or Mikal can really sing? He has that crystalline voice only achievable in Disney movies, probably why it stays hidden in record. The simple but necessary approach of the female drummer's playing is antagonized by the lead guitarist's chameleonic ability, giving songs like "Shout it Out" a much based gorgeous harmonic build-up, culminating in that chorus so irresistible to sing. Indeed, this was an early winner of the night, hell, of the whole festival as well. Really a stand-out concert of the bunch. PS: all my love to the 12-string guitars.
Jacco Gardner.
And then he got to witness another solo artist with band supporting putting a quality show, being Jacco Gardner. Seriously, the only negative aspect I can find is his blatantly obvious influence in the Syd Barrett-era Pink Floyd, but even this copycat impression needs to be recognized as successful and principally well executed given the amount of performers – four, including Jacco with the panoply of synths, a bassist, an acoustic guitarist (and I swear I didn't notice any pedal increment), and probably the coolest drummer of all time, although using sunglasses on your performance at night is confirmed as prone in skipping a beat or two. Once again, the build-ups were a winner, only in here they were dragged to phenomenal space jams as soon as the song was dealt with. Also, his voice is peculiar, can't get enough of coincidental trademarks of Mikal and Jacco. All in all, once more one of the great concerts this Milhões edition got to offer, and again to alert of this precocity.
"Tó Jó" Rodrigues representin' BB crew
But hey, dismiss my prophecies right now, because Black Bombaim + La La La Ressonance gave probably the best combo concert of the festival. The parallel with the previous edition Black Bombaim's combo is to call, but… this went totally better different. The number of musicians onstage raised, the silence moments were by far much more, and the instrumental catharsis was much significant this time. Altered versions of both bands' released songs were present, some jamming too, and the payoff was beautifully orchestrated anthems with their functioning running time and feel. What a huge performance, I wonder if this collaboration doesn't decide to finish here, because it got soul inspiring out there.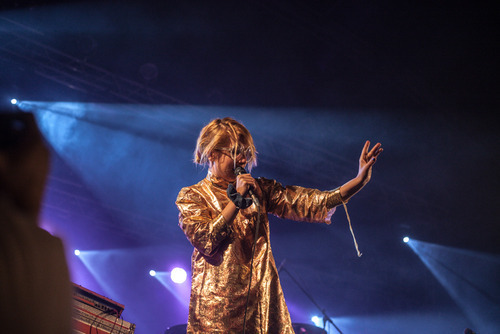 Austra.
Let me once again remark on the number of performers and the performance success: while in the previous case it clearly boosted the quality of it, examples like Jacco tend to say that the quality of the composition is all that matters. And then you've got Austra, an easy listening band who clearly bets on exciting details brought by extra people to the band. And that's what missed to this Austra show: those extra people. How alone it felt the Katie Stelmanis singing. Not only that, the instrumentation was dry and lacking in the dancing beats department. What a bummer of a concert to watch by this time of the night. It finished better than started, at least that.
Not Metz, but Camera.
Camera at least were decided in what to do. Of course this type of insistent kraut rock is no news to the crowd of Milhões de Festa, but praise be given to those who deserve. And again, I was surprisingly pleased with their holding still feature moments before slowly explode. Too bad this one happened onstage rather than in the middle of the crowd, as, spoiler, none other this year.
Ufomammut.
No matter what I'll say, Ufomammut put a magnificent performance and could in fact be the best concert of the day. But here's what: why the fuck was this 600×480 pixel screen showing random footage not that much in synch with the actual music being played behind the band? But most importantly, why the volume of the whole thing was so damn… low? Yes, it was shocking, I really craved for that urge of blowing speakers and it was too few loud. I actually moved closer to the stage, and still I felt it was soft. Otherwise, as I said, the band was impeccable. Impossible not to dig this insistent much bassed metal.
Otto Von Schirach? Ninja please.
I awaited the following one in a great awe, not sure in what to stumble upon. And yes, it was weird enough the whole performance behind the turntable and MCing of Otto Von Schirach. However, I can't lie, I genuinely enjoyed this. There's something vicious and appealing in the middle of all that flying mess of glitches and buzzes, and showing by this Vice Stage sample, I wasn't the only one to feel that. As for the visual aspect of it, Otto was practicing some ninja skills if relying on the outfit (on his constant jumping and pace as well). This, allied with some (more serious) screen projection of his friends in fighting crime, like a suit dressed crocodile, gave a ridiculously comic book ambient, which combined pretty great. Few moments before the greatest hits "Salpica" and "When Dinosaurs Rule the Earth", it was time to say goodbye, and personally this was when it got the weirdest, as Otto seemed to make a bit of ceremony and take a bit long while leaving, this all while the strobe lights where still on and off. Charismatic at least.
And finally White Haus to close the day with a DJ set. I won't be naming all the pleasant songs he chose to play, but I must say I'm pleased the Icona Pop one-hit-wonder "I Love It" was part of it, one of my many pop guilty pleasures. So yeah, the day got to end in a party, at least for those who put a sleeping end to the day, as there were a handful of afterhours options in Barcelos. How do I know this you ask? Don't ask, don't tell.
Photos courtesy of Amílcar R.
BSC
bernardo@bolachas.org