"We all make mistakes", sang Sharon van Etten at the beginning of her concert in Paris, last week in La Maroquinerie. In fact, it will be a huge mistake if you don't run to see her every time you can! Besides of being an excellent musician, Sharon is so lovely… It's nice how a girl with her arms tattooed and with a bunch of powerful songs seemed to be the sweetest thing on earth when she appeared on the stage with a pencil skirt and an elegant pair of black high heels. She denied during the concert, but I have to confirm: Sharon van Etten is so cool!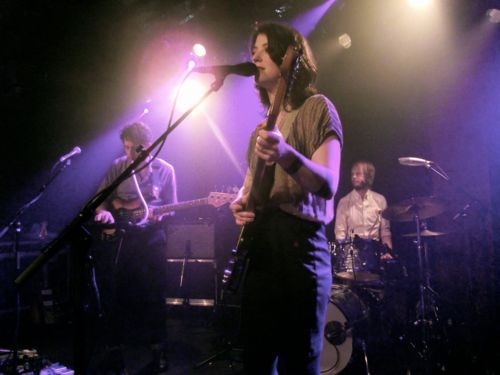 After "All I Can", the first song of the concert, she proceeded with tunes such as "Warsaw", "Save Yourself" and "Kevin's", a song that she confessed had sung a lot of times before.
Actually, Sharon talked a lot during the concert and I loved it more and more because of that. It's nice to know a bit more about the songs, even if you can guess some things by yourself. When she sings that "You're the reason why I'll move to the city, you're why I'll need to leave" (not you, obviously), you know that she talks about love, but it's sweet to hear from her that "Give Out" is a song written for a man that she loved. This song was such a nice and strong one (no, I didn't cry, but I was almost there when Sharon sang with her heart that she needed to leave. Oh.).
On other side, she made me smile when she talked about her mother and about her hypothetic future kids. Her mum loves "Magic Chords", which is my favorite song of Tramp, her last album released on February. "Magic Chords" is a perfect song and it starts to play very easily in repeat mode on our mind: "You got to lose, you got to lose, you got to lose sometime…". It was also on this song that Sharon shown us her magnificent omnichord, a very weird musical instrument with a bunch of buttons that helps to create the amazing instrumental atmosphere on this song. 
Another sweet moment happened in the end of "Magic Chords", when an American girl on the first row asked Sharon about her tattoos. In a very kindly way, she explained to the audience each one of the tattoos that she has in both arms. The tattoo of a guitar on her left arm is my favorite one, because it fits her perfectly.
After playing a couple more Tramp songs, Sharon dedicated the encore to the previous albums, Because I Was in Love and Epic. "She made me love, she made me love, she made me love… more", said Sharon in "Love More", the last song of the gig. Yeah, that's true: after I saw her for the first time last February in a mythic concert – as she and her manager referred after the show – at Point Éphèmére, Sharon made me love her even more in La Maroquinerie. Some girls are bigger than others… And Sharon van Etten is obviously one of the biggest.
RBC
Setlist:
1.     All I Can
2.     Warsaw
3.     Save Yourself
4.     Kevin's
5.     Peace Sign
6.     Give Out
7.     Magic Chords
8.     Ask
9.     I Wish I Knew (Solo)
10.  Leonard
11.  Serpents
12.  I'm Wrong
13.  Joke or a Lie
—–
14.  For You
15.  Don't do it
16.  Love More